This shop has been compensated by Collective Bias, Inc. and its advertiser. All opinions are mine alone. #FreschettaFresh #CollectiveBias
There's nothing quite as stressful for busy parents as getting dinner on the table. Between work deadlines, family obligations, personal commitments and keeping up with household chores, who has the time to spend hours preparing dinner? There is so little time, and if you are like me, you have no desire for fast food every night. Y'all, the struggle is real, but let me help you.
Surprisingly, it is possible to make fresh dinner every night that doesn't take hours to prepare. So before roll your family up to yet another drive-thru, consider these tips to help make dinner time run a little more smoothly. FYI- you can purchase the pictured Freschetta products by hovering over the image above. Continue reading below and you will see why you should click those products. 😉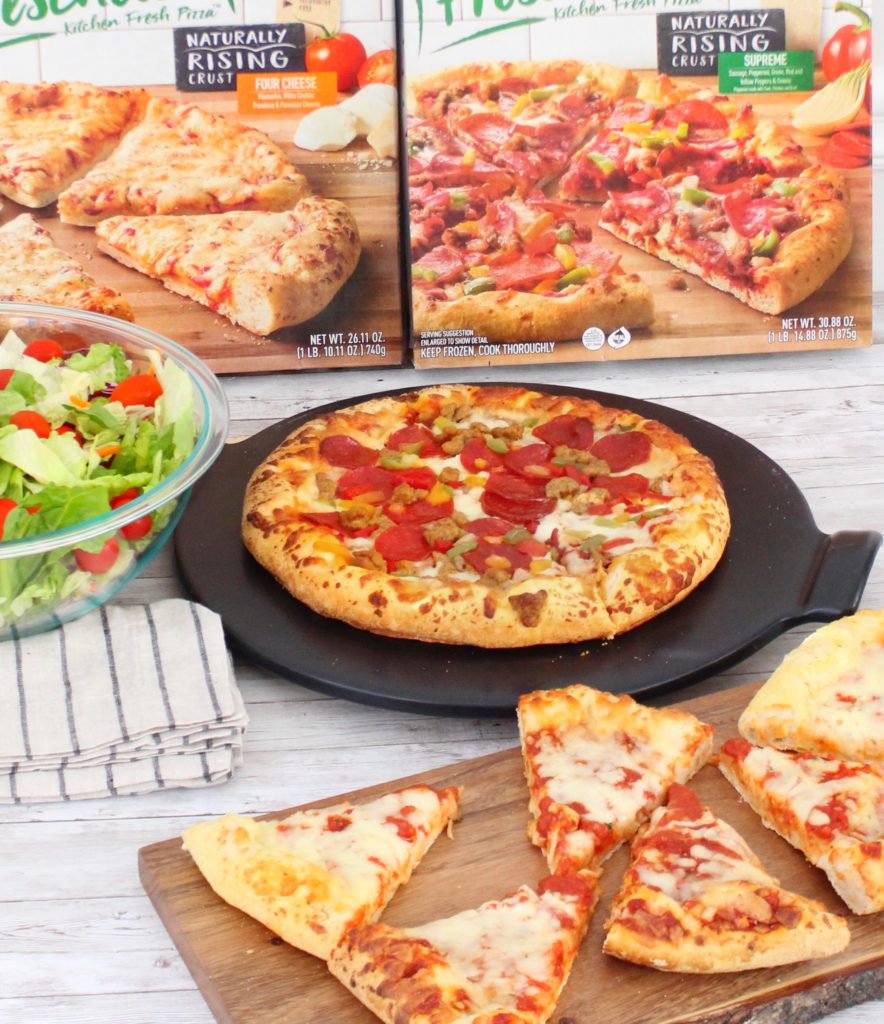 Fresh Family Dinner Shortcuts For Busy Moms
K.I.S.S.
Hey, I get it. You are busy, so Keep It Simple Simon. 🙂 Simple and fun are always a hit with children. My kids like anything that feels a little out of the ordinary, so try mixing up your traditional dinner with simple swaps. My kids love when I pull out the Freschetta. Yes, frozen pizza…Freschetta is a scratch-made pizza with freshly shredded mozzarella cheese, vine-ripened tomatoes and premium meats and vegetables, all on top of flavorful sauces and a preservative-free crust. No other pizza tastes like a Freschetta pizza because no other pizza is made like a Freschetta pizza. And the kids go wild for it.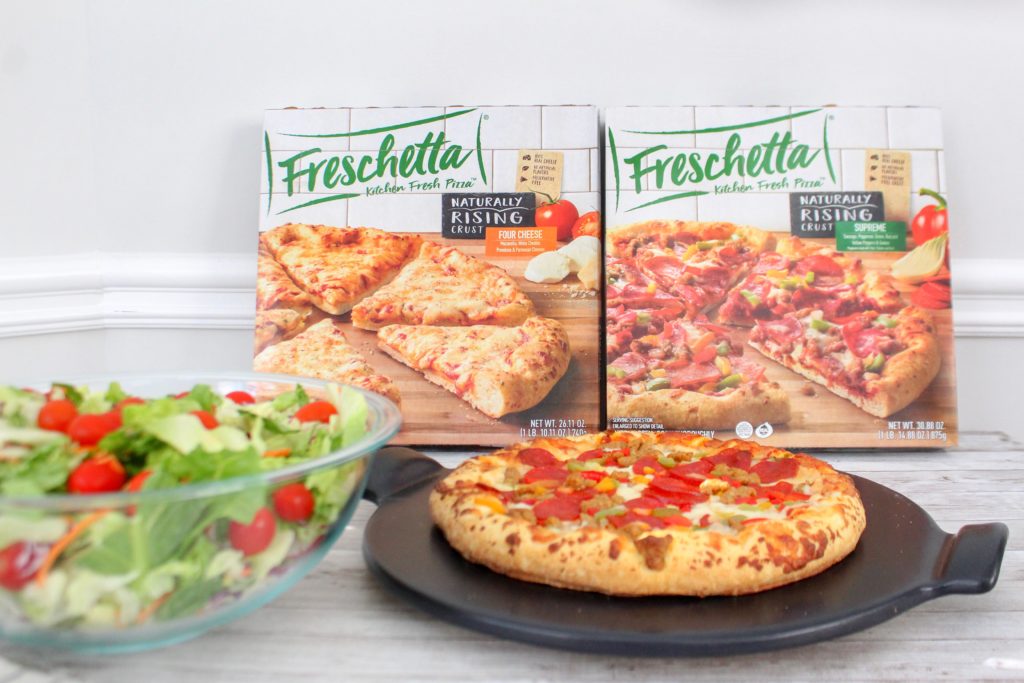 Go Small
Ah yeah, I said it. You don't have to cook a big elaborate meal, and you don't have to eat out. If you have your staples on hand you can have a casual picnic-style dinner one night. Pizza slices, crackers and cheese, apples and peanut butter, and fresh fruits and veggies make for a fun, satisfying meal.

Have Staples On Hand
Always have a few "go-to" meals on hand that the family loves. Things that are all easy to make and require minimal time and effort. If you've had an extra-stressful day and don't feel like cooking or ran late coming home from work, having staple meals on hand at all times is a lifesaver. My kids love when I pull out the Freschetta. Freschetta makes their Naturally Rising Crust Pizza with no chemical leaveners. Which means the dough rises using real yeast. The result is a signature crust that rises in your oven and fills your house with the aroma of freshly baked bread. Crispy on the outside and tender on the inside, this pizza is one the whole family will love.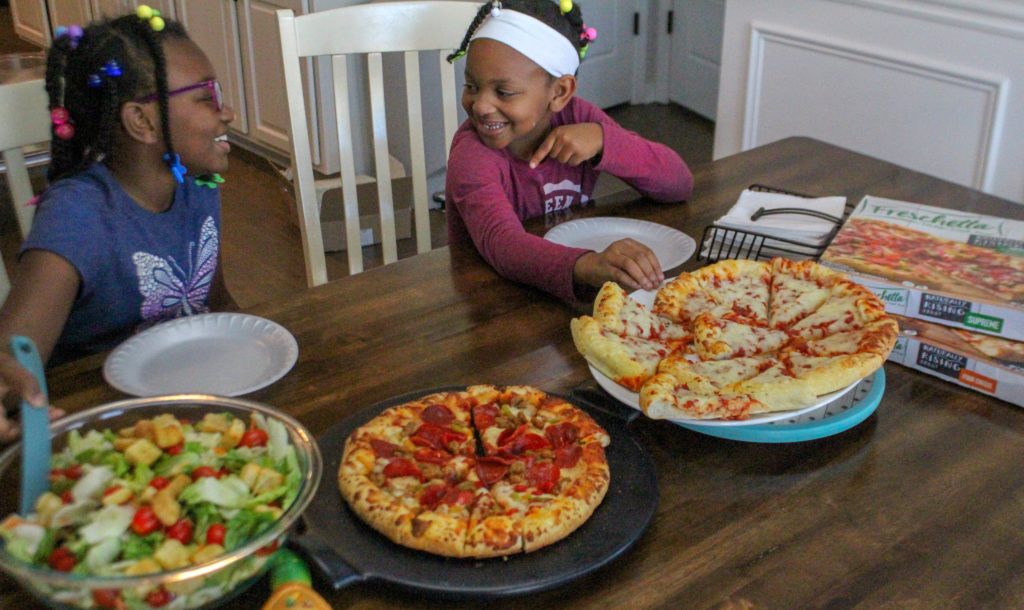 Buy Shortcuts
I find that some time-saving solutions are generally worth spending a bit extra on at the grocery store. I embrace shortcuts and pantry staples as a handy helper. On my next trip to Publix, I snag a few containers of precut or bagged produce (anything from already sliced apples to pre-diced onions can be a real lifesaver during the dinner hustle) and packages of frozen veggies for faster meals. Today's shortcut is my bagged salad. A crisp delicious salad goes great with Whole Vine-Ripened Tomatoes in Freschetta Sauce. The sauce is made with whole, vine-ripened tomatoes to give each one a rich base of fresh flavor.
Here you have it. With a few simple dinner shortcuts, you can make dinner time a little simpler. This allows you to spend more time with your kids, helping them with their homework, playing games as a family or just cuddling on the couch.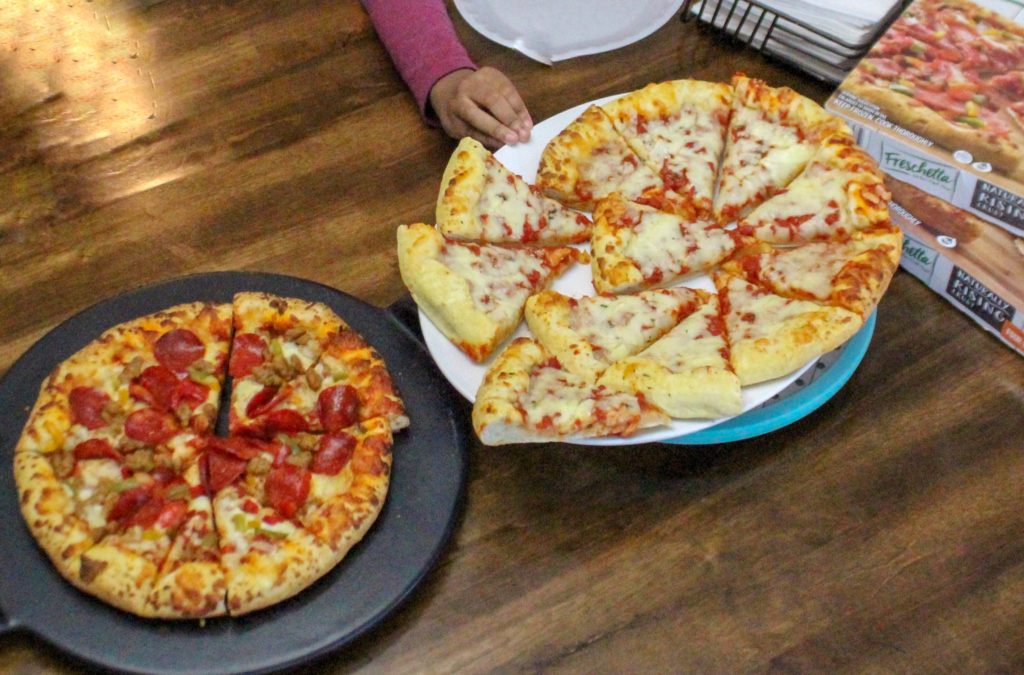 For me Freschetta has helped solve the fresh & delicious dinner need in my home without sacrificing quality and flavor.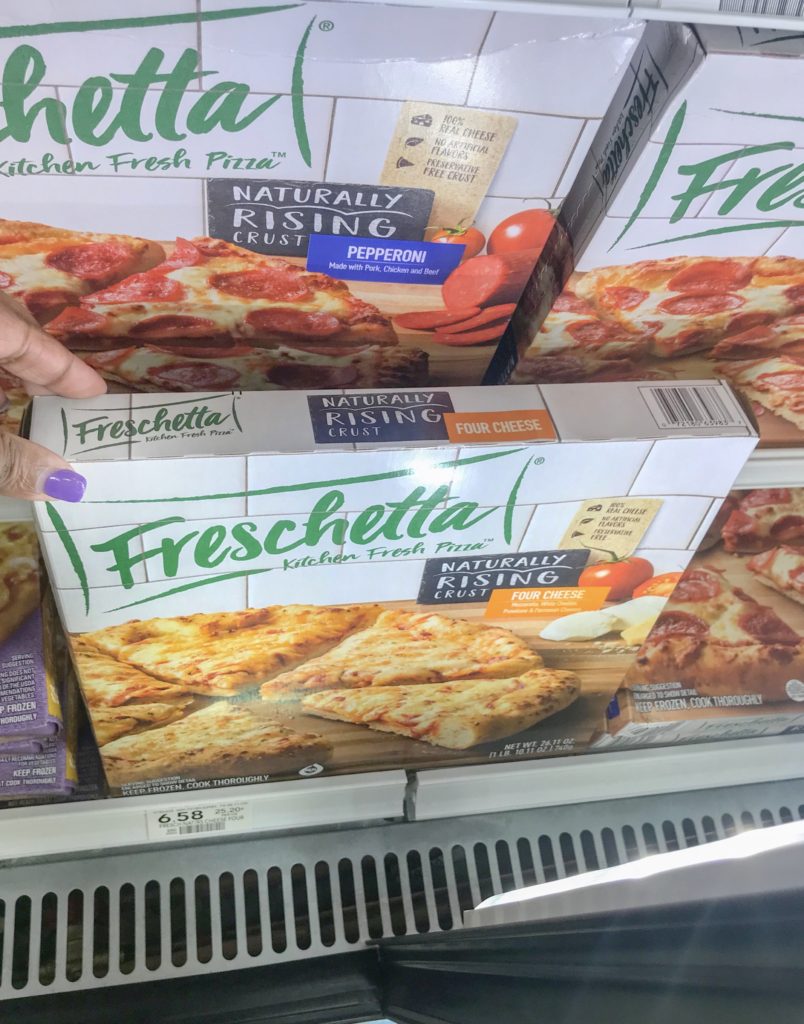 Guess what? To help you with your fresh family dinner shortcuts I'm sharing this limited time offer with you to Save $1.50 on any ONE (1) Freschetta® Pizza at Publix by clipping the offer by clipping the offer (be sure to click on the "Frozen Food" filter).